Here's some basic information to get you started. More maintenance and modification information can be found at this link: BMW K75, K100, K1, K1100 Maintenance & Modifications
Scroll down for documents related to particular models.
At the end of that there's a list of recommended initial modifications.
Links to K bike discussion forums are at the end of the page.
Basic Terminology:
Bimmer vs. Beemer: Not that it really matters but If you're new to BMW motorsports then "Bimmers" refers to BMW cars and "Beemers" refers to BMW motorcycles.
Classic K Bikes: The term "Classic K bikes" refers to K100s, K75s, K1s and K1100s which all have the same basic design based on the original K bike design, the 1983 K100. In the mid 90s the K1200 models were a major redesign in terms of the frame, suspension, bodywork, etc...
Flying Brick: Nickname for K bikes due to the appearance of the three or four cylinder engine lying on its side. Some also attribute the term brick to the weight of K bikes.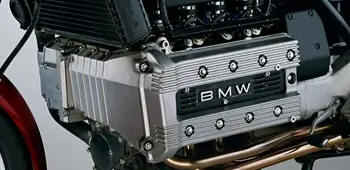 Miscellaneous:
Little Paint Spots: Many people wonder why some of the bolts and nuts on K bikes have little spots of paint on or near them. During the assembly process these were used to indicate that a bolt or nut had been properly torqued.
Maintenance:
Owner Maintainable? Yes. With a modicum of wrenching skill and experience K bikes are fully owner maintainable if you're a "shade tree" or DIY mechanic. Sites like www.motobrick.com are a good resource where you can get maintenance advice from other K bike owners. But remember that if you do your own work then you do so at your own risk with your motorcycle's safety and reliability hanging in the balance.
Professional Shop Maintenance: If you are not comfortable performing some or all of the maintenance on your K bike then you'll want to find a qualified mechanic.
Personally I would not recommend taking a classic K bike to BMW dealer. To start with, BMW dealers have relatively high hourly labor rates and charge standard, not actual, labor hours for the work that they do. Next, the mechanics working at BMW dealers are only trained to work on newer BMW models and have little to no training or experience working on old K bikes. They may be good, qualified mechanics but when it comes to working on old K bikes most BMW dealer mechanics these days are merely "manual readers."
When looking for a good independent shop try to find one with experience working on BMWs and, in particular, K bikes. Ask around on motorcycle forums or seek advice from a local BMW rider club to find one near you. There's a fair amount of former BMW mechanics that have gone into business for themselves to work on BMWs. Most will charge you actual, not standard, hours at more reasonable labor rates than a BMW dealer and they have valuable experience and insight into working on older BMWs.
A list of independent BMW shops in the US and Canada can be found at this link. There may be others so if you don't find a nearby one at that link then ask around.
Generic motorcycle shops may do OK for routine maintenance like fluid and filter changes but for more complicated mechanical or electrical work it's a bit of a crap shoot. However, if you're not comfortable doing your own work then it is something to consider.
Manuals And Documents To Download:

K Bike Wiring Diagrams
NOTE: The distribution of the following BMW shop manuals is OK with BMW and does not constitute a copyright violation.