Key Blanks for BMW K bikes & R Bikes
1976-1999
Click here for compatibility.
Free USA shipping!
International shipping cost varies by country and quantity.
Contact me for details.
Lost your key? Click here
Quantity Discounts Available:
If buying more than one key blank then discounts are available. Just ask.
Two Key Styles Available:
NE-7 ($7 each) This a STEEL key similar to the 51251233554 key blank sold at BMW dealers for only $24. These need to be cut at "real" locksmith since steel keys are harder than most keys so they can't be cut at your local hardware store. I recommend calling your locksmith ahead of time to see if they can cut steel keys.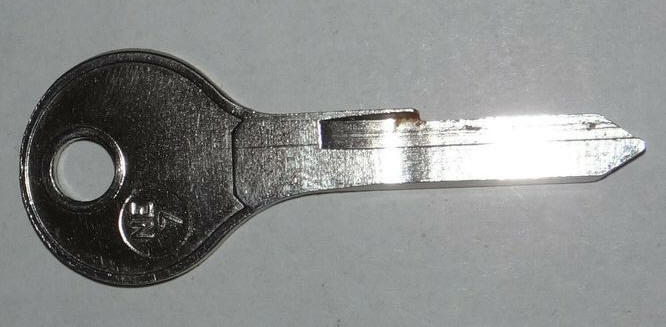 NE-8 ($5 each) This is a nickel plated brass key like most keys made these days and can be cut at the hardware store. I use these keys on all of my old Beemers.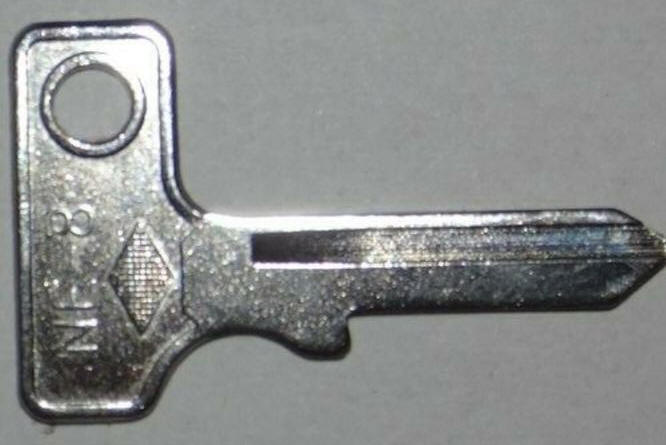 It's not a big deal but when having the NE-8 key blank cut at a locksmith or hardware store be sure to have the "shoulder" removed so that it will fit into a BMW lock. As you can see in the picture below, BMW keys don't have that shoulder.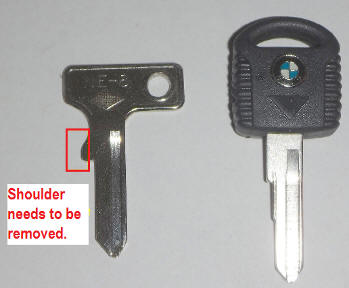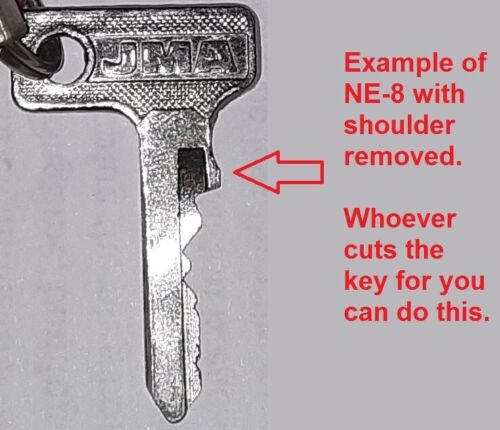 Payment:
USA: I accept Zelle or you can snail mail me cash, check or a money order.
International: Paypal.
I extracted the following compatibility table from the BMW parts catalog but if you have any uncertainty about whether these keys will work on your K bike or R bike then you can email me your year, model and maybe the last seven digits of your VIN and I will double check compatibility for you.
| | | |
| --- | --- | --- |
| Model | From | To |
| K1 | 89 | 93 |
| K1 | 89 | 93 |
| K100 | 83 | 91 |
| K100/2 | 83 | 91 |
| K100LT | 83 | 91 |
| K100RS | 83 | 91 |
| K100RS4V | 89 | 93 |
| K100RT | 83 | 91 |
| K1100LT | 91 | 99 |
| K1100RS | 91 | 99 |
| K75 | 85 | 96 |
| K75/2 | 85 | 96 |
| K75C | 85 | 96 |
| K75RT | 85 | 96 |
| K75S | 85 | 96 |
| R100/7T | 76 | 84 |
| R100CS | 76 | 84 |
| R100GS | 91 | 95 |
| R100MYS | 91 | 95 |
| R100PD | 91 | 95 |
| R100R | 91 | 95 |
| R100RS | 76 | 84 |
| R100RS | 87 | 95 |
| R100RT | 76 | 84 |
| R100RT | 87 | 95 |
| R100TIC | 76 | 84 |
| R1150GS | 99 | |
| R45 | 78 | 85 |
| R45/N | 78 | 85 |
| R45T | 78 | 85 |
| R45T/N | 78 | 85 |
| R60TIC | 76 | 84 |
| R65 | 78 | 85 |
| R65/20 | 85 | 95 |
| R65/35 | 85 | 95 |
| R65GS | 80 | 92 |
| R65LS | 78 | 85 |
| R65RT | 85 | 95 |
| R65T | 78 | 85 |
| R80 | 76 | 84 |
| R80 | 85 | 95 |
| R80GS | 80 | 92 |
| R80GS | 91 | 95 |
| R80GS/96 | 96 | |
| R80MYS | 91 | 95 |
| R80PD/CH | 91 | 95 |
| R80R | 91 | 95 |
| R80RT | 76 | 84 |
| R80RT | 85 | 95 |
| R80ST | 80 | 92 |
| R80TIC | 76 | 84 |