© 2013 Drake Smith - Please do not use or reproduce this elsewhere. Feel free to link to it though.
I've owned several different multimeters over the years and this is my favorite for use on K bikes.
Compact and self-contained. Only 4.25" x 2" x 1" so it doesn't take up much room in your tool kit or tail cowl.
Automatic power-off. Not only does this help to conserve its batteries but, if you're like me, then occasionally you use a multimeter and forget to turn it off. And there's nothing more frustrating then having it be dead the next time you need to use it.
Auto-AC/DC/ranging/polarity/resistance. Unlike dial type multimeters where you need to select AC or DC and pick a voltage range, this detects all of that for you. If you have the DC voltage polarity backwards then it puts a minus sign in front of the reading so it really doesn't matter which way you connect it. It also auto-ranges when measuring resistance.
Audible Continuity Tester. In continuity mode it beeps when there is continuity. This is a very handy feature because you can quickly test for continuity without having to look at the LCD display.
20" Test Leads. From the unit to the tip of each test lead. For a multimeter this compact, that's pretty good.
Cons:
Case Latch. The latch to keep it closed isn't all the great. However, this is easily overcome by keeping it closed with a rubber band.
LR44 Batteries. Though common and not that hard to find, small "coin" LR44 alkaline batteries are not as convenient as multimeters that run on AA or AAA batteries. That said, since it uses three of them and has auto power off, it will last a good long time on a set of them. It also wouldn't be as compact if it used larger batteries. It has a low battery indicator on the display too.
Display Not Backlit. This is both a pro and a con. On the one hand, you need some light on it to read the display when working in darker places. On the other hand, it means the batteries last longer.
Quality? Out of curiosity, I skimmed the reviews of it on the Radio Shack website. There are several reviews stating that it failed more or less right out of the box. However, it's important to remember that people are much more prone to post a review of a product that broke than a product that worked as expected. And the two I own have been dropped, bumped around, used, abused and ridden in my tail cowls for many, many miles and I've never had an issue with either one of them. As you can tell from the picture below, the one that was once a nice clean bright yellow when I got it has since "been around the block" a few times. I also bought both of them used on Fleabay so the original purchaser, not me, got to find out if they had quality issues or not.
And it only has a 90 day warranty so be sure to break it quickly and send it in for replacement right away!
I also carry a pair of alligator clipped wires. (Made from genuine BMW wire!) Dollar bill included so you can see how compact it is.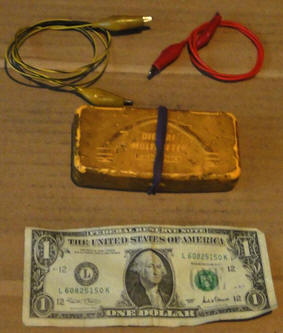 © 2013 Drake Smith - Please do not use or reproduce this elsewhere. Feel free to link to it though.