© 2013 Drake Smith - Please do not use or reproduce this elsewhere. Feel free to link to it though.
For several years I used an NEX IIe MP3 player either on my belt or the strap of my tank bag with earbuds. This worked pretty well since it used CF cards for storage, could be operated with gloves on and would last well over a day on a pair of alkaline AA battereis - and it only cost me about $10 on Fleabay. BUT, it wasn't waterproof so I'd have to stash it in a jacket pocket when riding in the rain.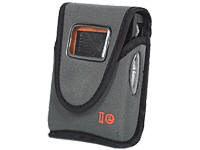 Then, while surfing The Internet one day, I stumbled across the H2O Audio (now known as X-1) model iN3 waterproof case which is made for swimming with a 3rd Generation Ipod Nano. At the time it was on sale for $24.99 so I bought one. Then I scored a used 8GB 3rd Gen Nano on Fleabay for about $35.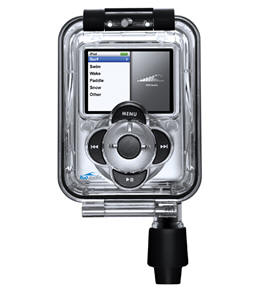 It came with a neoprene armband holder which is OK for swimming I guess but was kind of dorky and didn't hold up very well when I used it for riding.
What I found worked much better for me was a 1.5" wide Velcro strap strapped around my left (clutch side) leg. To install it all I needed to do was remove the two Phillips screws that hold the belt clip onto the back of the case.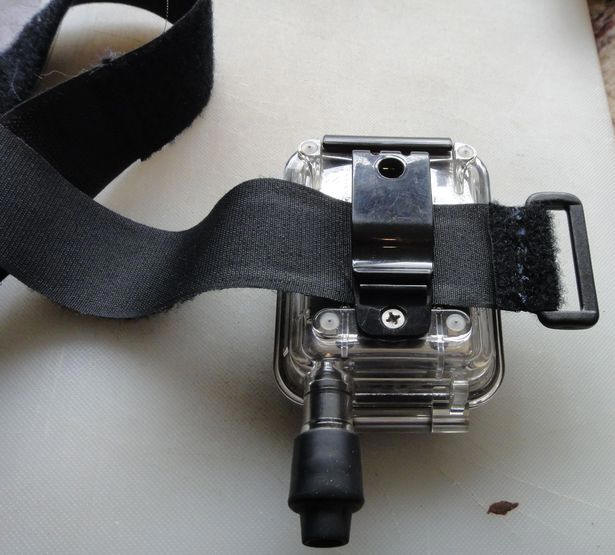 This straps it securely to my left leg. (I also use it for my heated gear dual controller when necessary.) The H2O Audio iN3 controls are very easy to use even with thick winter gloves on. Since I'm left-handed that makes it even easier to operate.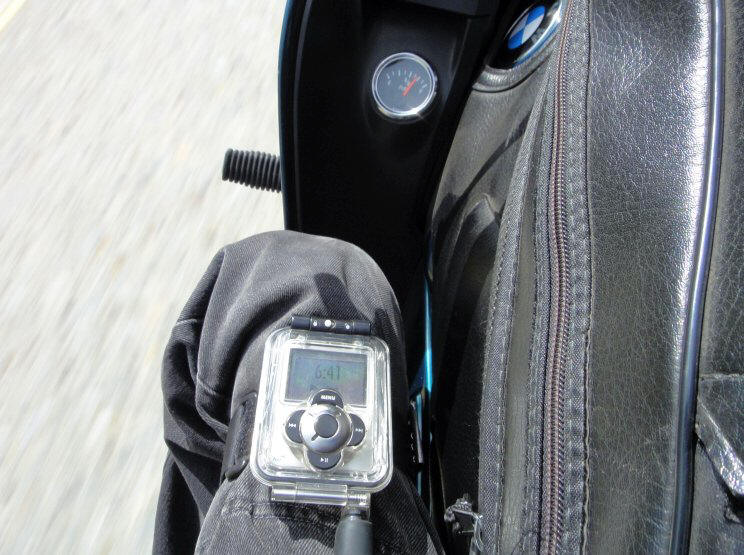 Unfortunately, the iN3 is no longer in production or available for sale but can probably be found on Fleabay if one is patient.
The one drawback of the iN3 is that, for some reason, it gets the control ring of the Nano dirty. I'm not sure why this is but it's a non-issue for me as I only use my Nano for riding and I only paid $35 for it used on Fleabay.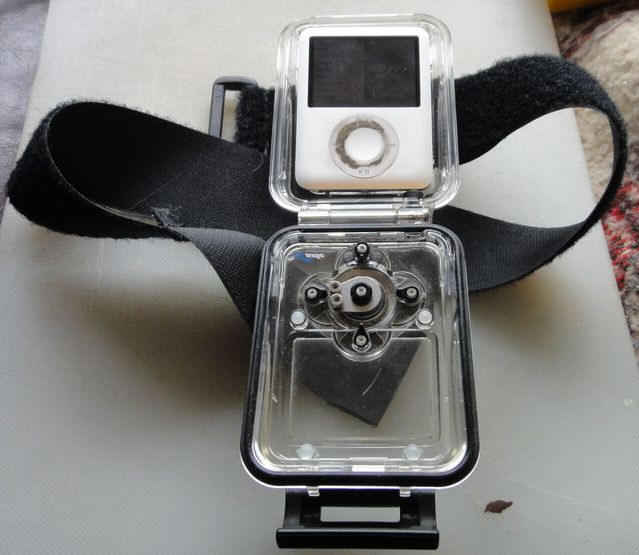 Earbuds:
I've used various earbuds with this (Koss "The Plug", JVC Marshmallows, and several others) as I experiment with different types of inexpensive earbuds. The iN3 utilizes a standard stereo 3.5 mm jack so you can use whatever earbuds work best for you. A couple of caveats about earbuds:
* Given the design of the iN3's headphone jack, you cannot use earbuds that have a 90 degree plug.
* I've found that it puts some strain on the wiring at the jack and eventually the earbuds will fail. (Why I use inexpensive ones.) Therefore, when touring, I usually have a spare set of earbuds in my tank bag.
I'm currently using these earbuds. I bought them a while ago and can't remember what brand/model they are but they sound pretty good, are comfortable and stay in my ears well.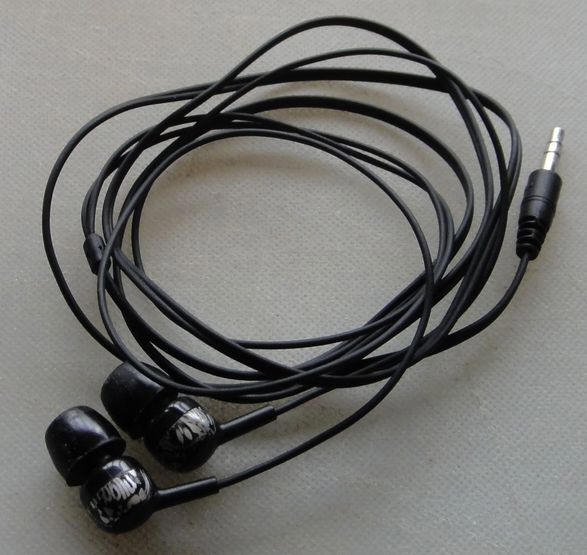 The next pair of earbuds I plan to try are these SkullCandy JIB Rasta ones: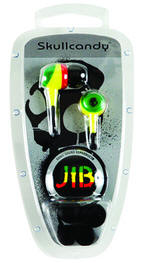 I've never been a big fan of Apple products but I must admit that I really do like my 3rd Gen Nano. The battery in it easily lasts even the longest day of riding and it recharges quickly from the bike with a USB charger when I stop for the day.
Software:
I think iTunes is bloated crapware so I use the freeware program Copytrans Manager to manage the content on my Nano. It's much easier to use and faster than using iTunes.
I occasionally backup my Nano using the freeware program Ipod Rescue. It's not very sophisticated but it's free and it works.
© 2013 Drake Smith - Please do not use or reproduce this elsewhere. Feel free to link to it though.