© 2019 Drake Smith - Please do not use or reproduce this elsewhere. Feel free to link to it though.
Corbin makes aftermarket "custom" seats for K bikes. There are many other seat options for K bikes (Russell and Sargent for example) but there's a lot of Corbin seats around and some US dealers offered them as an option with new K bikes back in the day. They aren't the most comfortable seat you can get but they're pretty good and light years better than the BMW stock K bike seats.
Link to Corbin for Ks: http://corbin.com/bmw/kmenu1.shtml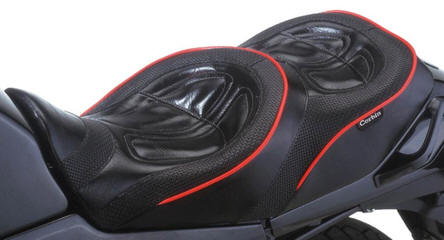 Dual Tour
This is probably the most comfortable Corbin seat and usually works well on standard, K75C, RT and LT K bikes. (They will fit of course but I don't think they look very good on S and RS models.) The rider area is a scooped out and distributes weight across a fairly large area.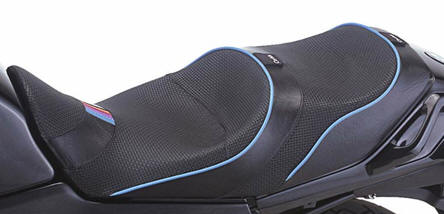 Dual Canyon Sport (a.k.a. Dual Sport)
These aren't quite as comfortable as the Dual Tour but they're not too bad. These look good on S and RS model K bikes.
Gunfighter
This is a solo seat and it tends to be rather hard so I wouldn't recommend them for long distance riding but the lines match the K bike's tail cowl well so this might be a good seat if you only ride solo for relatively short distances.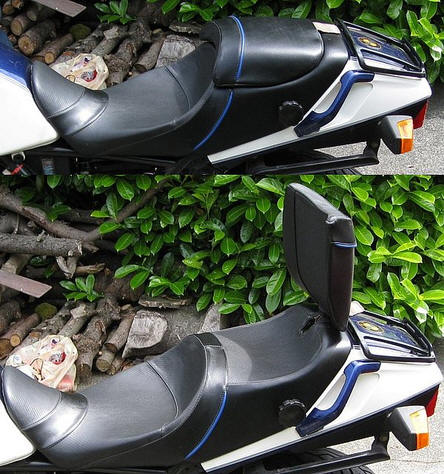 Rumble Seat (no longer available from Corbin)
This is a solo seat is very similar to the Gunfighter but the rear portion flips up to provide seating and a backrest for a passenger. I don't know how comfortable the rear would be a for a passenger but it doesn't look like it's good for long rides.
Low Seat (no longer available from Corbin)
This is a low style seat for Ks. I'm pretty tall so I haven't really put any miles on one of these but it's shaped similar to the Canyon Dual Sport so I imagine that it's a moderately comfortable seat. From pictures like the one above that I've found on The Internet it doesn't look like it works with the rubber tank surround used with BMW OEM low seats. This part: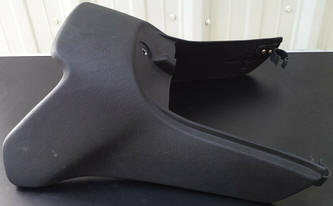 Covering fuel tank (Part 16112308660)
1985 and earlier K100s:
All of the seats above fit 1986 and later K bikes. Corbin also made the Dual Tour and Canyon Dual Sport seats for the early K100s. They are squarish at the lower rear corner. (where the early K100 passenger handholds are) Example: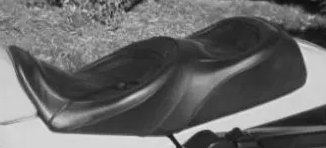 1985 Dual Tour
Miscellaneous:
Mounting Hardware: All Corbin seats use the BMW factory mounting hardware. Some of the later Ks came with seat hardware that has rubber in the two hinge pieces. ( 52532307568 & 52532307572)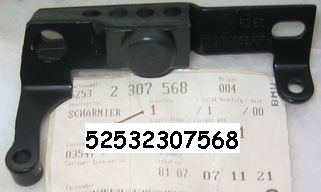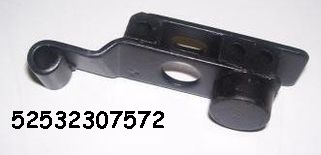 If you currently have the hinges pieces with rubber then to mount a Corbin seat you'll need to replace those with a set of the older hinge pieces. (52531453364 & 52531455122)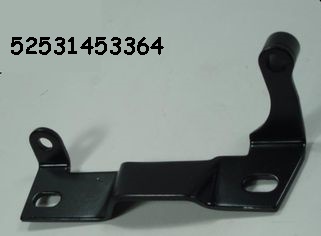 Mounting: Leave the latching post off at the beginning. As you attach the front and rear hinges to the seat leave the seat hardware a bit loose so that you can move the seat around until it aligns well with tank and tail cowl. You can also loosen the two bolts that hold down the seat hinge bar:

Once you have the seat positioned well tighten up all of the hardware. Then install the latching post, align it and tighten it down.
Weight: Corbin seats have a thick fiberglass seat pan and therefore are pretty heavy compared to other seats.
Recovering: Upholstery shops tend to charge a lot to recover Corbin seats. One reason for this is that Corbin uses rivets instead of staples to attach the seat cover. It takes more labor to drill out all of those rivets so they charge more. Some shops might give you a break on the price if you drill them out yourself ahead of time.
Seat Hardness: The foam Corbin uses is pretty firm so when you first sit on the seat it might not seem that comfortable. Corbin does this on purpose because although a cushy seat might feel great when you first sit on it a moderately firm foam provides better overall comfort if you are sitting on it for a long time.
If you have a new seat then it may take a bit of riding until the seat gets broken in.
A good way to make a Corbin seat more comfortable for long rides is to use a sheepskin seat pad. One of the more popular sources for them is Alaska Leather.
Rider Height: The off the shelf Corbin seats are made for an average sized rider (whatever that is) and generally work well for most riders. However, Corbin does build custom seats for taller and shorter riders. I've had Corbin seats where the distance from the tip of the seat to the top back varied from 14.5" to 18".
Backrests: Depending upon the model of seat Corbin seats can come with mounting for either rider or passenger Corbin backrests.
For the K1100LT Corbin makes a nice top case backrest that's better than the rubber factory one.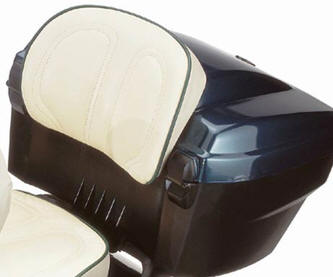 Corbin Ride-Ins and Customer Service: Corbin does ride-ins for custom seat builds at their Hollister, California location. Reports on their ride-ins and other customer service vary from being the worst in the world to top notch. I have no experience so don't have an opinion on that.
Care & feeding: Use your favorite plastic or leather care treatment.
Storage & Shipping: When the seat is off of the bike or being shipped be very careful not to scrape the cover along the bottom rim of the seat pan. It's easy to screw up a good seat if you're not careful about this.
© 2019 Drake Smith - Please do not use or reproduce this elsewhere. Feel free to link to it though.