© 2013 Drake Smith - Please do not use or reproduce this elsewhere. Feel free to link to it though.
Under the right side of the tank you will find a white "additional instruments" connector: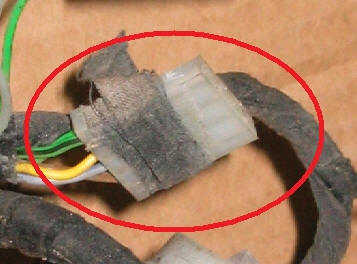 It has four wires:
| | |
| --- | --- |
| Wire Color | Function |
| Green/Black | Switched 12V+(from Fuse 1) |
| Yellow | Fuel Level |
| Gray/Blue | Backlighting 12V+ |
| Brown | Ground |
For the temp gauge you will need to replace the drain plug on the bottom of the water pump with a temp sensor (BMW part 62161459270) and a temp sensor lead (BMW part 61121459511). The copper crush washer for the temp sensor is part 07119963072. Caution: Do not use he-man torque when installing the temp sensor in the water pump or it will tear apart. The correct torque is 9 Nm or 80 in-lbs.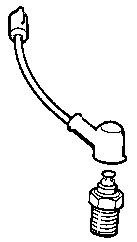 The temp sensor lead should follow the same path as the lead from the oil pressure switch. The input to the temp gauge from that lead is a black wire.
The short intermediate wiring harness for RS and K1 models is part 61121459488. For RT and LT models you need two intermediate wiring harnesses - 61111459767 and 61121459768. These are rather expensive though so you may want to consider wiring up the gauges yourself.
For RS models, the gauges mount in the left and right front panels in the fairing - parts 46631453937 (left) and 46631453938 (right).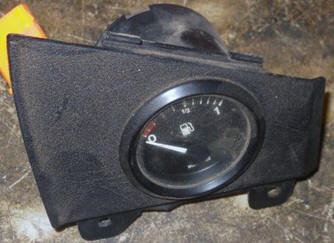 For RT and LT models with a fixed windscreen, there is a plastic panel (46632303616) and metal underplate (46632303615) that replace the crossbar member.
Other options are to mount them where the speakers would go or there are also some handlebar gauge mounts for RT/LT bikes:

If you're careful with hole placement then gauges can be installed in the sides of the K75S fairing.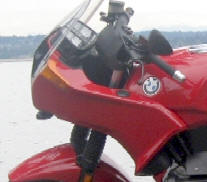 Given how the fuel level senders work on 1985 and earlier K100s, it is not possible to hook up a fuel gauge. You can only add a temp gauge by adding the temp sensor and lead described above. There is no additional instruments connector in the wiring harness so you need to tap into green/black, gray/blue and ground wires in order to power the temp gauge.
© 2013 Drake Smith - Please do not use or reproduce this elsewhere. Feel free to link to it though.